Rasta Imposta Tequila Bottle & Lime Slice Couples Costume Liquor Drink Dress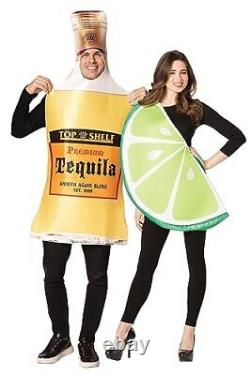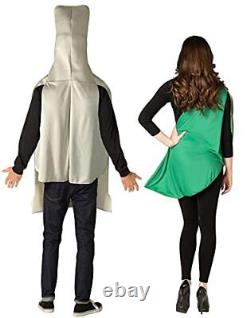 Rasta Imposta Tequila Bottle & Lime Slice Couples Costume Liquor Drink Dress Up Cosplay Costumes, Adult One Size. CITRUS JUST GOT REAL: Citrus just got real in this couples Tequila Bottle and Lime Slice Couples Party Halloween Costume! Tequila may not be the answer but it's worth a shot! INCLUDES: This costumes includes two tunics. The Tequila tunic is printed on the front only.
Both tunics are constructed of polyfoam knit for comfortable, party friendly fun! FIT & CARE: Both costumes are a one size and fits most adults.
You can care for your new costume by simply spot cleaning with cold water only. Do not wash, bleach, dry clean or iron. DIMENSIONS: The product measurements for this costume are the Tequila is 56" x 27" (L x W) and the Lime is 38.2" x 20.5" (L x W).
DON'T FORGET TO #RASTAIMPOSTA YOUR COSTUME LOOK: Expertly designed for you with precision and care by the #rastaimposta team in Runnemede, NJ, USA. Get noticed with by #rastaimposta your amazing costume look!
RASTA IMPOSTA DELIVERS FUN: Every day is fun at Rasta Imposta! Explore our exclusive world of products at our Amazon Store as you find things you never thought of before but now must have. We bring you the best and most creative hats, costumes and accessories to transform life's moments into hilarious memories.
Couple's Night Out In order to find that special someone, you had to take a shot-literally and metaphorically speaking, that is. You had to admit you were open to love, you had to sign up for that online dating site, and you had to make the dreaded profile.
You had to actually respond to people, too, when they messaged you. But then, your future honey emerged and on that first night, you two crazy kids did a special shot to commemorate your meeting. Now you two party animals are getting ready to tie the knot, but not before you put in a stellar Halloween performance.
This Couple's Tequila Bottle and Lime Slice Costume is the perfect way to pair up with your partner on Halloween night. It's a funny, easy-to-love, easy-to-wear duo that will get the party ramped up the moment you both arrive. Product Details This costume pair comes as two simple tunics you can wear over your own clothes (we suggest an all-black base for coordination) for comfort and ease.
One tunic is shaped like a tequila bottle and printed to look just like one ("top shelf, " of course, only the best for you two), and the other is shaped and printed like a green lime slice. You simply can't enjoy one without the other!
Practice Makes Perfect On Halloween, you can hit the dance floor and roam the festivities together or meander around solo, and either way, everyone will know you belong together. Hey, it's all just practice for your big night, coming up.