Mayan Woven Hammock. Jumbo / Big Kahuna Size. 100% Hand Made + Fair Trade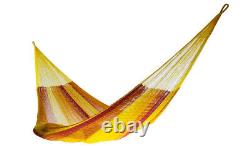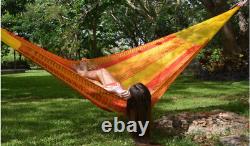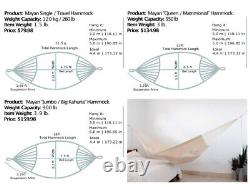 We Offer the Best Quality Cotton Mayan/Yucatan Hammocks in the World. Working with the Only Certified B Corp (Fair Trade) Hammock Company in the Yucatan. Hand Crafted on a Loom by Skilled Artisans with Thousands of Loops.
The Traditional Mayan Woven Hammocks Remind you of what it Truly Means to be relaxing in a Hammock. 30% Nylon (End lines & Hammock Eyes).
MULTI COLOR BLEND - Leave it to the weaver. Hammock Weight- 1.5 pounds. Body Length- 6.24 ft. Body Width = 2.62 ft. Hammock Length - 11.5 ft.
Weight Support - 350 pounds. The single / travel is perfect sized hammock for traveling.
It is a compact, lightweight model that will still opens over 5 feet wide, making it suitable for camping and hiking. Hammock Weight - 3 pounds. Body Length - 6.5 ft. Body Width - 5.5 ft. Hammock Length - 13 ft.
Weight Support - 550 pounds. This is a good size for those on a budget who want to use the hammock for themselves and maybe an occasional visit from a friend. Traditionally woven for two people, however, usually two Mayan people who are quite compact compared with some of us from the West! The woven bed expands as wide a 7 feet, yet is still compact enough to take along on a camping trip or picnic. Speaking from personal experience, this is the smallest size I would be willing to select for personal use to get maximum comfort.
Hammock Weight - 3.9 pounds. Body Length - 7.5 ft. Body Width - 10 ft. Hammock length - 14 Ft. These are the largest hammocks available and they are as comfortable as you can get with the Mayan Hammocks. Rated to hold a "VW Bug" 1000 lbs. Just because they are the biggest, doesn't mean they are too big for one person either. This is the perfect size if you are just plain greedy for comfort, or alternatively, this can fit a family of four quite comfortably! The open weave design can open as wide as 12 feet.
If using for just one or two, the weave is hardly stretched so your hammock will feel like a solid piece of cloth and will also provide for a little extra weave to throw over your legs or wrap yourself like a cocoon on a breezy day. If you plan to spend a lot of time in your hammock or are replacing your bed then we recommend you choose the Big Kahuna / Jumbo hammock. The quality begins with the thread used to weave the hammocks. Working with a family that, for the past 35 years, has been manufacturing the strings used by the Mayans who weave the hammocks. They are responsible for approximately 3-5 miles of string used in each hammock.
That being said, there is no other company in the market that has this degree of quality control. From the factory the string goes to over 500 families in the Yucatan country-side who carry out the hand weaving process. Working with many of the same families for several generations, each earning a fair wage while keeping their tradition alive. When the weaving is complete (3-5 days, depending on the size) the hammocks are brought to the center of Merida, Mexico for a final inspection.
From start to finish we guarantee the most ethically sourced Mayan hammocks with the highest quality and comfort available.