Handmade Yucatan Hammock Matrimonial Size 13ft Long Mexican Mayan style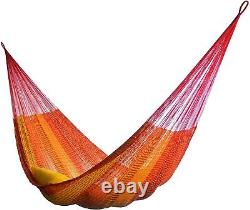 This is the model of matrimonial size Yucatecan cotton cotton hammocks. Also known as Mayan hammocks. The cotton yarn hammocks provide freshness, softness and comfort, making them ideal for rest and rest. Because each hammock is handmade, this means that no two hammocks are alike.
Note: multicolored hammocks will have variations in the combination of colors and tones with respect to the image in the publication.