Atterstone Tequila Shot Glass Sugar Skull Wooden Box Set for Men and Women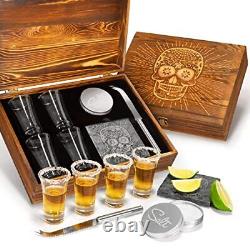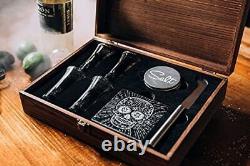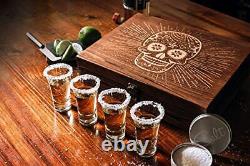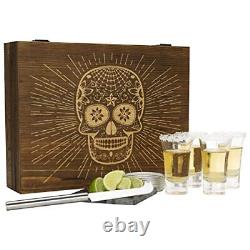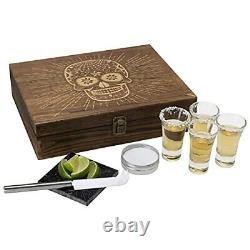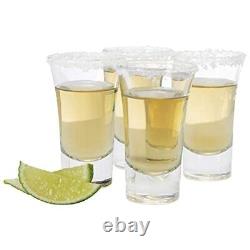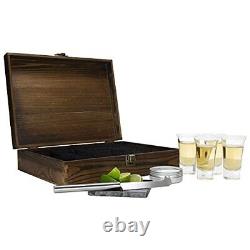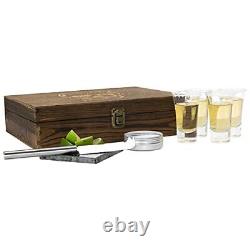 Atterstone Tequila Shot Glass Sugar Skull Wooden Box Set for Men and Women - 4 Premium Shot Glasses, Garnish Knife, Lime Cutting Stone, Salt Tin, Perfect for Themed Parties and Holiday Gifts. COMPLETE LUXURY TEQUILA SHOT GLASS SET - The Atterstone Sugar Skull Tequila Shot Glass Box set includes 4 heavy based 2oz shot glasses, salt tin (salt not included), a sugar skull engraved mini stone cutting board and a garnish knife. These tequila essentials are packed in a stylish rustic wooden decorative box engraved with a large Spanish Sugar Skull design. PREMIUM SHOT GLASS SET - All glassware included is food grade, lead-free luxury crystal.
You will experience the quality and heft that the glassware offers every time you lift and feel the heft of your new glasses. Your top shelf tequila and liquor will appreciate it as well. GARNISH KNIFE, CUTTING BOARD & SALT TIN INCLUDED - The included Garnish knife and cutting board are perfect for slicing limes, lemons, or your favorite cocktail side for a tequla chaser. The round salt tin is size perfectly to salt the rims of your new shot glasses. These inclusions complete this tequila collectors item making it the perfect kit for any tequila lover. CANDY SKULL DESIGNED BOX - The Candy Skull or Calavera is proudly displayed on the front top lid of the tequila wooden box. The design is also etched on the cuting board that comes with the set, making it a great Spanish-themed party accessory. This striking Mexican design makes the Atterstone Tequila Box set a special gift for the holidays or any special occasion that calls for a shot of tequila. SPOIL A GENTLEMAN IN YOUR LIFE WITH THE BEST GIFT - The Atterstone Sugar Skull Tequila Shotglass Box Gift Set is the #1 gifting idea for Christmas, Father's Day, groomsmen or any occasion.
Treat a loved novice, seasoned tequila connoisseur, bartender or anyone that would appreciate an amazing conversation piece! Tequila aficionados, entusiastas del cóctel, conocedores y coleccionistas - todo el mundo querría agarrar esta colección con el tema de Candy Skull Atterstone Tequila Box. Un juego incluye lo siguiente: 4-2 oz 2"x 3.5" vasos de chupito. Beber a través de cristal cónico con el peso justo es como debes disfrutar de la tequila. El cristal premium de esta colección también se puede utilizar para vodka y agavo mezclado.
1-9" x 11.7" x 2 caja de madera con diseño de calavera de caramelo en la parte superior. La caja decorada con calavera de caramelo será un éxito seguro en fiestas temáticas mexicanas. Tan funcional como estética, el divertido y elegante embalaje de esta colección Atterstone lo convierte en un regalo ideal para los amantes del cóctel.
1-2.68" x 2.68" Circle lidded tin with Salt etching. Esta lata de círculo mantiene la sal en un lugar para evitar que se astille por todo el lugar. La tapa, con el grabado de la palabra Salt on, se puede agarrar y girar fácilmente.
1-0.89" x 7.5" Cuchillo de guisante El juego de caja Atterstone Tequila te permite cortar tu garnés de cóctel o perchero de tequila. Porque un disparo de Pardon es mejor disfrutado con una lima o limón a mano. 1 - 4" x 4" posavasos Los disparos de tequila son divertidos, los anillos en las mesas y los contadores no lo son. El juego Atterstone Tequila incluye un posavasos con grabado especial de calavera de caramelo que lo hace un éxito en las fiestas temáticas mexicanas. Any product you return must be in the same condition you received it and in the original packaging.
We usually respond within 24 hours on weekdays. Thank you for shopping at our store.