Dye DSR Paintball Marker Tequila Sunrise Fade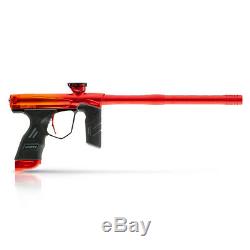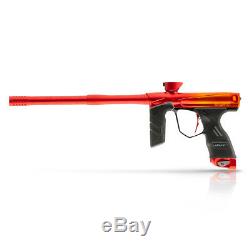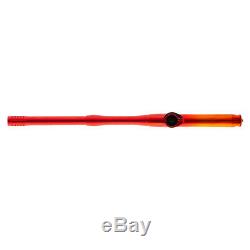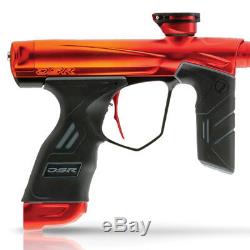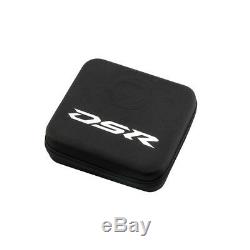 Gear Bags, Backpacks & Cases. On/Offs - Asa's - Drops.
Dye DSR Paintball Marker - Tequila Sunrise Fade. DYE is proud to release the all-new DSR.
After extensive market research, listening to players, and DYE##x2019;s passion for innovation in the sport, the next advancement in paintball marker technology is here. The DSR is a groundbreaking new platform that offers everything competitive players are looking for and much more. The all-new ARC Bolt is DYE##x2019;s cutting edge engine that delivers amazing performance in a robust, reliable package. Optimized flow paths, independent valve control, air supply cut off, and nearly zero chamber expansion are all critical to the ARC##x2019;s outstanding air efficiency. The two stage bolt acceleration, air spring, impact bumpers, and ultra-low 115 operating pressure ensure a smooth, quiet, and accurate shot that is extremely gentle on paint.
Performance is at the core of every component in the DSR. The new Hyper 6 regulator with coil spring, improved air dynamics, and simplified serviceability coupled with DYE##x2019;s new unique custom solenoid breathe life into the DSR and ARC Bolt. The 3rd Generation Eye Pipe System, Quick Release Bolt, and Free Wire Connectors make service effortless, while the Method Operating System and OLED screen provide intuitive operation for fine tuning. The DSR is not just raw performance and muscle.
True to DYE##x2019;s design theory, the DSR##x2019;s ergonomic comfort is second to none with features including the UL Frame hourglass design and dual density full wrap Sticky Grips with precisely layered micro-texture that provide ultimate comfort. The updated TruCam Airport, Edge1 trigger, and new Core DYE Barrel give you total control over the powerful new DSR.
DYE##x2019;s craftsmanship is unmistakable in the DSR from the endless performance features to the crisp strong lines that race uninterrupted across the low profile DSR body with no bulky plates or exposed screws. The DSR is a sleek, compact, and efficient machine built to outperform and outlast the competition. ARC Bolt - The all-new ARC Bolt is DYE##x2019;s groundbreaking new engine that delivers amazing performance in a robust, reliable package. The ARC Bolt##x2019;s smooth, quiet shot, high efficiency, and soft touch on paint is the end result of precise engineering. Optimized flow paths, dwell independent valve control, air supply cutoff, and nearly zero shot chamber expansion are all critical to the ARC##x2019;s air efficiency.
Two stage bolt acceleration, air spring, impact bumpers, and an ultra-low 115 psi operating pressure ensure a smooth, quiet, and accurate shot that is extremely gentle on paint. Quick Release Bolt - The all-new Quick Release Bolt Assembly is a robust gate system with air lock that prevents accidental bolt release and securely holds the bolt in place.
A simple push button system allows the user to remove and re-install the bolt kit in seconds. Standard maintenance has never been easier or more accessible. MOS - Method Operating System - The DSR is powered by DYE##x2019;s Method Operating System. The MOS gives the operator unrestricted access to precision tuning and unsurpassed performance.
The optimized MOS programming logic ensures lightning fast response time, long battery life, precision tuning, and dual player profiles to store your exact playing specifications. Communication between frame and body is facilitated through the Freewire Connector Pins. Compression pins ensure a positive connection between performance driving hardware and the MOS. DYE Freewire Connector Pins eliminate awkward wire routing and dramatically improve serviceability. The MOS is truly advanced performance in the palm of your hand. Control Joystick - The 5-way Control Joystick and high contrast OLED display screen provide an intuitive user interface. Gas-Thru - A direct air passage through the frame improves ergonomics and performance.
No pipes, hoses, or complex routing paths are present on the DSR. Radial bore sealing o-rings ensure a positive seal from ASA to the marker. Eye Pipe Breech System - DYE##x2019;s Patented 3rd Generation Eye Pipe Breech System shields the anti-chop eye system from any dirt and broken paint. The thick, durable polycarbonate pipe is wiped clean by the bolt tip o-ring on every firing cycle creating a self-cleaning system that ensures the eyes are always monitoring the breech and ball drop. DYE##x2019;s proprietary Eye Pipe system protects your DSR from harsh environments and eliminates performance-hindering breech wear.
The extended-life Leaf Spring Ball Detents are integrated into the Eye Pipe to prevent double feeds and chopped paint as well as eliminating the need for bulky exterior eye plates. UltraLite 45 Frame - The UL 45 Frame is the culmination of top pro-player influence and progressive engineering. Designed specifically for modern double finger triggers, the UL Frame##x2019;s hourglass shape was ergonomically designed to give the player ultimate control, comfort, and performance. The UL Frame combined with DYE##x2019;S famous Sticky Grips offer a secure grip for stability and accuracy while encouraging sustainable, rapid trigger speed.
Edge1 Trigger - The Edge1 Trigger is a blade-style trigger with adjustable travel, activation, and resistance. Allowing optimal tuning for unbeatable speed, reaction time, and ultimate trigger control. Patented DYE Sticky Grips - The full wraparound Sticky Grip with micro-texture provides the ultimate grip.
Dual density design offers comfort and control. The single screw design utilizes a durable locking system to ensure a rock solid grip and quick access for service. Lockdown Clamping Feedneck - The adjustable cam lock lever allows you to securely lock your R-2 Loader onto your gun without tools. DYE##x2019;s Lockdown Feedneck sits low and tight on the marker making sure your R-2 keeps a low profile.
Color Coded O-Rings ##x2013;Pioneered by DYE Precision and designed to make it easy to quickly identify the correct replacement o-ring when performing maintenance on the DSR. Qu ick Battery Access - Battery access made extremely simple.
Simply use the quick-turn recessed lock nut and slide the dual-density grip with micro-texture off for easy battery access. Freewire Connector - No wires between the frame and body with quick disconnect contact pads. Eliminates awkward wire routing and dramatically improves serviceability. New protected connection helps prevent water intrusion.
Low Profile Design - All-aluminum body construction with no exposed screws or eye plates. UL TruCam Airport - The UL TruCam Airport is a balanced cam system with an easy turn on/off toggle lever featuring a single o-ring design. The recessed lever design ensures extra protection from accidental degassing of the system.
Core Barrel - The new Core 14##x2019;##x2019; two-piece barrel comes with DYE##x2019;s proven vent hole pattern in the trademarked Steady Port Tip. The Core control back is finished under the most extreme tolerance specifications. Self-aligning two piece construction ensures properly centered assembly between control bore and the Steady Port Tip. This combination of precision components provides a quiet shot, superior accuracy, and unbeatable performance. H6 Regulator - The Hyper 6, now with a more efficient airflow path and consistent piston movement. The latest generation of DYE##x2019;s trusted line of regulators is the most reliable and consistent regulator DYE has produced to date. Updated with a single coil spring and top load assembly that allows for exceptionally easy service.
Integrated into the Hyper 6 is a pressure bleed-off to ensure no air is trapped in the marker when degassed. Improvements focused on performance, reliability, and safety to ensure the best playing experience possible. Hard Foam Case - Features an EVA foam lining for secure protection of the DSR. Slick Lube, quick start guide, DYE Core allen key set, and barrel sock are included with the marker.
A Company founded by players, run by players, dedicated to players.... Was born in 2004 in a one bedroom apartment.
Our founder who fell in love with the sport of paintball through a corporate team building event, found it very difficult to find gear at affordable prices in Tampa. When he did find paintball gear it was normally 20-30% higher in price than most online stores, and the selection was often sub-par.
He soon realized that there was a need for a good local connection for paintball gear, and quickly made it his mission to grow Wicked Sports into a paintball superstore in Tampa, and through our Web store. While most large online stores do not focus on the local business typically with a little or no local Retail presence, Wicked Sports has created one of the largest retail brick and mortar locations in the state of Florida, with over 4000 sqft dedicated to displaying our merchandise. Wicked Sports has worked closely with the paintball manufacturers, vendors and fields to provide the best service and prices for our customers. We are authorized to sell and service all of the gear we stock.
We stock full lines from all of the leading manufactures in the industry and are continuing to grow our selection every week. We also carry our own rapidly growing line of custom products including tanks, t-shirts, barrel covers, tech mats and goggle bags. The techs at Wicked Sports are some of the best in the business, attending training events to stay up-to-date on certifications while constantly honing their skills repairing and servicing markers in-house. Most importantly, all of the Wicked Sports staff play paintball.
No company can provide the best customer service in their industry if they're not actively involved in it. All of our employees get out to the field as often as they can. You can always shop online and if you are in the Tampa Bay area, stop by and visit our retail store to see for yourself what we have to offer. Items must be new in the factory sealed packaging or have all tags attached and be in resell-able condition.
Goggles must have the protection film untampered with. This listing is currently undergoing maintenance, we apologise for any inconvenience caused. The item "Dye DSR Paintball Marker Tequila Sunrise Fade" is in sale since Sunday, September 2, 2018. This item is in the category "Sporting Goods\Outdoor Sports\Paintball\Paintball Markers".
The seller is "wickedsportsinc" and is located in Tampa, Florida. This item can be shipped to United States.